Two Knotty Boys' Scheduled Classes and Events
Two Knotty Boys teach classes and perform shows primarily in the San Francisco Bay Area. To be
kept up to date on all upcoming workshops and appearances, please join our confidential
email list at twoknottyboys @ yahoo.com. Customized workshops for private groups are also available.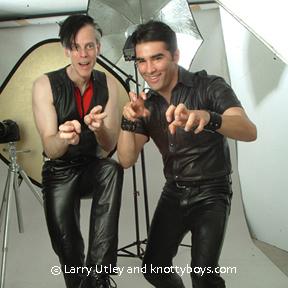 Our upcoming workshops!
---

April 1st! Two Knotty Boys teach "Back on the Ropes" at
Good Vibrations on Valencia Street., San Francisco
$25 pre-registered, $30 drop-ins. Please call (415) 522-5460 to reserve a seat.


Wednesday, April 1, 8-10 pm
$25 if pre-registered, $30 for drop-ins

Celebrating the release of our latest step-by-step
bondage book, Two Knotty Boys: Back on the Ropes,
JD and Dan will teach you some of their favorite ties
from the new manual (which describes more than
70 techniques). Through Dan and JD's light-hearted
demonstrations and assisted practice, you'll master
basic, intermediate and even advanced (but easy to
learn) rope bondage methods that will thrill you and
your partner. All new techniques include wrist ties,
harnesses and even decorative pieces. Like our books,
there has never been a more comprehensive, entertaining
and easy way to learn how to tie rope bondage, safely
and beautifully. JD and Dan will be signing books, too!
If possible, please bring two 30' lengths of rope:
one 3/8" to 7/16" diameter and the other 1/4" diameter.
Attending with a partner is recommended for practice,
but not required.

We strongly recommend reserving your seat in our workshops.
Some of our classes fill up and signing up up early will
make sure you can attend them. Early pre-registration is
the best way to avoid disappointment.

Please call (415) 522-5460 during store hours to register
for this class. Good Vibrations will need your name,
phone number and a credit card number to reserve a seat.
However, your card will only be charged if you donít come
to the class and you donít cancel your reservation by 3 pm
on the day of the class. Registration fees can be paid
in cash or credit card when you arrive. Weíll be
open at 7:30 pm and all workshops are from 8-10 pm. We
suggest that you plan to arrive a few minutes early to
check in at the counter.



PERFORMANCES

Two Knotty Boys Performed Live at DeaconX Fetish Night in Portland, OR!

(Click the flier to see the video of our Portland trip!)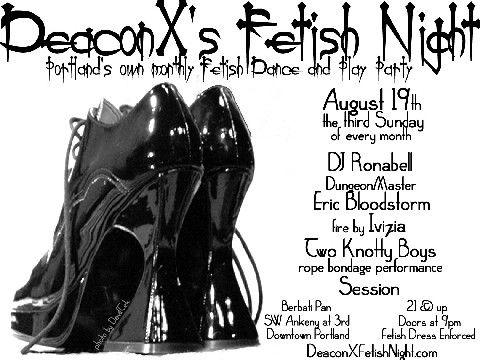 Hear our interview recorded Saturday, April 29, 2006!
Live Interview with Two Knotty Boys on NPR
Neighborhood Public Radio
Two Knotty Boys are currently arranging book signings and workshops for Winter 2008/2009 and beyond.
Please check back soon for details, or join our email list to be the first to know. Thanks!