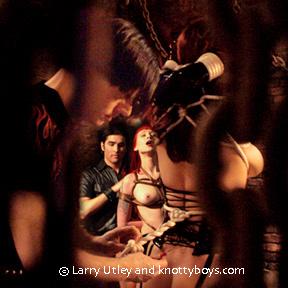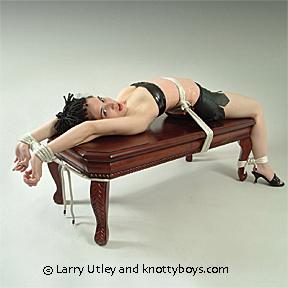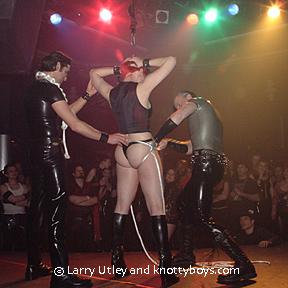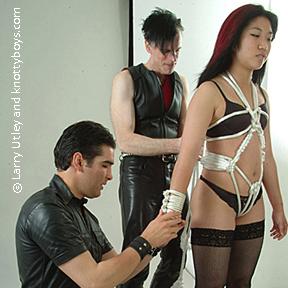 Whether for fun, photo shoots or foreplay,
rope bondage can be a great skill for you to
harness. As experienced professional riggers,
we Two Knotty Boys (Dan and JD) can show
you how to put fun, safety and artistry into
the ages-old discipline of rope play.

NOW AVAILABLE in book stores and online!
Two Knotty Boys: Showing You the Ropes
Introducing our step-by-step guide that shows
how to tie 37 rope techniques through more
than 700 photographs and clear captions.
Buy now! (Click image below.)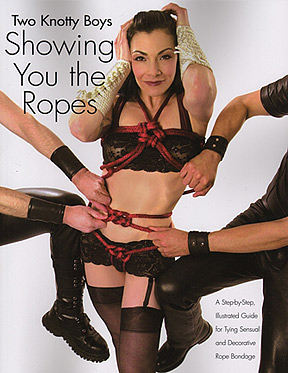 (Click the image above to order from Powell's.com)

Through our San Francisco based, hands-on
workshops, Two Knotty Boys will shape your
skills in quickly and safely tying restraints
that are as beautiful as they are effective.

Our goal is to demystify bondage and put the
fun into it, while making it safer and much
more aesthetically pleasing.

Our dual-instructor format lets us provide better
personal attention for student practice--and
enables us to cover expert and novice techniques
in the same workshop. You'll leave the class
armed with about a dozen solid techniques or
pieces you can actually use! All of our popular
Two Knotty Boys interactive classes feature
live demonstrations, a safety discussion and
plenty of supervised practice.

In addition to classes, we frequently perform
live demonstrations at various clubs and are
also available for photo shoot rigging and
group instruction.

For the dates, times, locations and tuition for our
upcoming workshops and appearances, see our
current schedule. For more information, to arrange
rigging or special appearances, or to join our
confidential mailing list, please email
Two Knotty Boys at twoknottyboys @ yahoo.com

Screw MySpace. Add us on FetLife!
Two Knotty Boys


YouTube suspended our Two Knotty Boys
account, but you can still see some of
our free knot-tying videos at our new,
purely vanilla account on YouTube.com,
Tying It All Together!



Videos will soon be available here on our Web site!
Until then, you can download many of them here!

NEWS!
Sadie Lune of Eros Zine reviews Two Knotty Boys'
Official Book Release Party for Showing You the Ropes, as well as
our book, saying: "There are dozens of how-to
bondage books out there...but Showing You
The Ropes is the first one I'd actually buy."
Read the full review here!


The San Francisco Bay Guardian named the Two
Knotty Boys "One of the Top 20 things we
love about sex in San Francisco!"

Playboy TV's Sexcetera recently has
been re-airing a segment featuring our
Two Knotty Boys shows and workshops.
To see it yourself, email us for a link to the video.